Posts for: December, 2018
By Schiller Dental Inc
December 15, 2018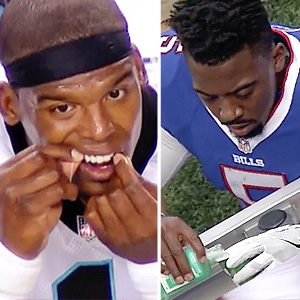 Everyone knows that in the game of football, quarterbacks are looked up to as team leaders. That's why we're so pleased to see some NFL QB's setting great examples of… wait for it… excellent oral hygiene.
First, at the 2016 season opener against the Broncos, Cam Newton of the Carolina Panthers was spotted on the bench; in his hands was a strand of dental floss. In between plays, the 2105 MVP was observed giving his hard-to-reach tooth surfaces a good cleaning with the floss.
Later, Buffalo Bills QB Tyrod Taylor was seen on the sideline of a game against the 49ers — with a bottle of mouthwash. Taylor took a swig, swished it around his mouth for a minute, and spit it out. Was he trying to make his breath fresher in the huddle when he called out plays?
Maybe… but in fact, a good mouthrinse can be much more than a short-lived breath freshener.
Cosmetic rinses can leave your breath with a minty taste or pleasant smell — but the sensation is only temporary. And while there's nothing wrong with having good-smelling breath, using a cosmetic mouthwash doesn't improve your oral hygiene — in fact, it can actually mask odors that may indicate a problem, such as tooth decay or gum disease.
Using a therapeutic mouthrinse, however, can actually enhance your oral health. Many commonly available therapeutic rinses contain anti-cariogenic (cavity-fighting) ingredients, such as fluoride; these can help prevent tooth decay and cavity formation by strengthening tooth enamel. Others contain antibacterial ingredients; these can help control the harmful oral bacteria found in plaque — the sticky film that can build up on your teeth in between cleanings. Some antibacterial mouthrinses are available over-the-counter, while others are prescription-only. When used along with brushing and flossing, they can reduce gum disease (gingivitis) and promote good oral health.
So why did Taylor rinse? His coach Rex Ryan later explained that he was cleaning out his mouth after a hard hit, which may have caused some bleeding. Ryan also noted, "He [Taylor] does have the best smelling breath in the league for any quarterback." The coach didn't explain how he knows that — but never mind. The takeaway is that a cosmetic rinse may be OK for a quick fix — but when it comes to good oral hygiene, using a therapeutic mouthrinse as a part of your daily routine (along with flossing and brushing) can really step up your game.
If you would like more information about mouthrinses and oral hygiene, contact us or schedule a consultation.
By Schiller Dental Inc
December 05, 2018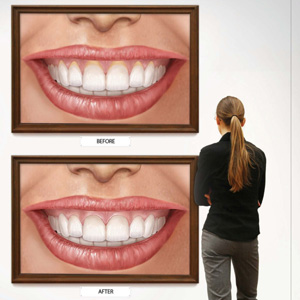 While the term "plastic surgery" might bring to mind face lifts or tummy tucks, not all procedures in this particular surgical field are strictly cosmetic. Some can make a big difference in a person's health.
One example is periodontal plastic surgery, which corrects gum tissue loss around the teeth. Although these procedures can indeed improve appearance, they more importantly help save teeth.
Gum loss is most often a consequence of periodontal (gum) disease, a bacterial infection arising from a thin film of food particles on the teeth called dental plaque. As the disease weakens the gums' attachment to teeth, they shrink back or recede, exposing the area around the roots. Without the protective cover the gums provide the roots, they become more susceptible to decay.
In milder cases of gum recession, treating the infection often results in the gums regaining their normal attachment to teeth. But with more advanced recession, natural gum healing may not be enough to reverse it. For such situations grafting donor tissue to the recessed area can help stimulate new tissue growth.
While gum tissue grafts can come from an animal or other human, the most likely source is from the person themselves. In one type of procedure, free gingival grafting, the surgeon locates and completely removes (or "frees") a thin layer of skin resembling gum tissue, typically from the roof of the mouth, shapes it and then transplants it by suturing it to the recession site. Both donor and recipient sites heal at about the same rate in two to three weeks.
Another technique is known as connective tissue grafting. In this procedure the surgeon partially removes the donor tissue from its site while leaving a portion containing blood vessels intact. The palatal tissue is still used and transported to fit beneath the tissue that's still attached to the blood supply. This connective tissue graft is then positioned and sutured to the recipient site while still maintaining its blood supply connection at the donor site. Maintaining this connection facilitates healing and increases the chances the graft will "take" and become firmly attached to the new site.
Grafting procedures require advanced techniques and skills. But with them we may be able to restore gum attachment to teeth with an impact on appearance and dental health that's well worth the effort.
If you would like more information on treating gum disease, please contact us or schedule an appointment for a consultation. You can also learn more about this topic by reading the Dear Doctor magazine article "Periodontal Plastic Surgery."