Posts for: January, 2019
By Schiller Dental Inc
January 14, 2019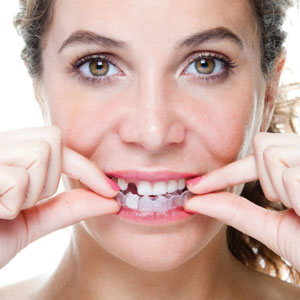 You have a lot of options for replacing missing teeth, from state-of-the-art dental implants to affordable, but effective partial dentures. But if the teeth in question have been missing for a while, you may first have to undergo orthodontic treatment. Here's why.
While they may feel rigid and firm in the jawbone, teeth are actually held in place by periodontal (gum) ligaments. These elastic tissues lie between the teeth and the bone and attach to both with tiny filaments. This mechanism allows the teeth to incrementally move over time in response to biting pressures or other environmental factors.
When a tooth goes missing the teeth on either side of the space naturally move or "drift" into it to help close the gap. This natural occurrence can reduce the space for a restoration if it has gone on for some time. To make room for a new prosthetic (false) tooth, we may have to move the drifted teeth back to where they belong.
If you're thinking metal braces, that is an option—but not the only one. Clear aligners are another way to move teeth if the bite problem (malocclusion) isn't too severe. Aligners are a series of custom-made, clear, plastic trays worn over the teeth. The patient wears each tray, slightly smaller than the previous one in the series, for about two weeks before changing to the next one. The reduction in size gradually moves teeth to their intended target position.
Many adults prefer clear aligners because they're nearly invisible and don't stand out like metal braces. They're removable, so you can take them out for cleaning or for special occasions. And, we can also attach a prosthetic tooth to the tray that temporarily covers the missing tooth space.
Whichever orthodontic treatment you choose, once completed we can then proceed with restoration to permanently replace your missing teeth. While it can be a long process, the end result is a beautiful smile that could last for years to come.
If you would like more information on your dental restoration options, please contact us or schedule an appointment for a consultation. You can also learn more about this topic by reading the Dear Doctor magazine article "Straightening a Smile before Replacing Lost Teeth."
By Schiller Dental Inc
January 04, 2019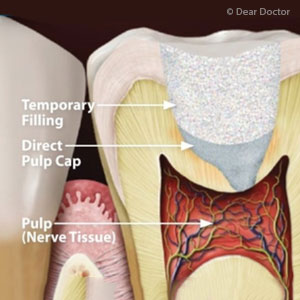 There's one sure thing about tooth decay: you can't ignore it. In fact, the best outcomes result from finding it early and treating it before it enters the pulp in the center of the tooth, often a filling or similar treatment.
If it does advance to the pulp, you may need a root canal treatment to save the tooth. This is a moderately invasive procedure where we access the pulp and root canals, tiny passageways leading to the root and supporting bone. We then remove all the diseased tissue and fill the empty pulp chamber and root canals with a special filling. Later we'll crown the tooth for added protection against future infection or fracture of the tooth.
But there's also another less-invasive method than a root canal called pulp capping. It's only appropriate to use, however, if the pulp has become exposed or almost exposed by decay, but hasn't yet shown signs of disease.
Pulp capping can be either direct or indirect. We use direct pulp capping if the healthy pulp has been exposed by the disease process. We first isolate the tooth from the rest of the mouth to prevent contamination and then proceed to remove all of the tooth's decayed dentin structure. We then apply a biocompatible material directly over the pulp to protect it from further decay and to facilitate healing. We then restore the tooth, usually with a filling, to its proper function and life-like appearance.
When the pulp is threatened by decay but not yet exposed, we may then use the indirect method. In this approach we first remove most of the decayed dentin, but leave a small amount next to the pulp to keep it covered. We then treat this remaining dentin with a material to help it heal and re-mineralize, followed by a temporary filling of the tooth. A few months later we'll remove this filling and inspect the treated dentin. If it has regenerated sufficiently, we remove any remaining decay and permanently restore the tooth.
As we said, pulp capping is only used with patients with deep decay whose pulp tissue is healthy. But when we can use it we can avoid some of the permanent alterations that often come with a root canal treatment and still save the tooth.
If you would like more information on treatments for tooth decay, please contact us or schedule an appointment for a consultation. You can also learn more about this topic by reading the Dear Doctor magazine article "Pulp Capping: A Procedure that May Save a Decayed Tooth."