Posts for: September, 2019
By Schiller Dental Inc
September 11, 2019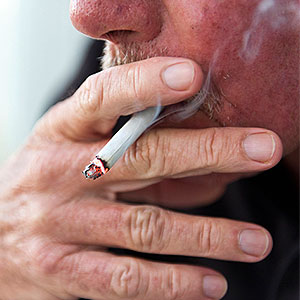 Although periodontal (gum) disease starts with the gums, the teeth may ultimately suffer. An infection can damage the gum attachment and supporting bone to the point that an affected tooth could be lost.
The main cause for gum disease is dental plaque, a bacterial biofilm that accumulates on teeth due to ineffective oral hygiene. But there can be other contributing factors that make you more susceptible to an infection. Smoking tobacco is one of the most harmful as more than half of smokers develop gum disease at some point in their life. If you're a heavy smoker, you have double the risk of gum disease than a non-smoker.
There are several reasons why smoking increases the risk of gum disease. For one, smoking reduces the body's production of antibodies. This diminishes the body's ability to fight oral infections and aid healing. As a smoker, your body can't respond adequately enough to the rapid spread of a gum infection.
Another reason for the increased risk with smoking are the chemicals in tobacco that damage the connectivity of gum tissues to teeth that keep them anchored in place. The heavier the smoking habit, the worse this particular damage is to the gums. This can accelerate the disease and make it more likely you'll lose affected teeth.
Smoking can also interfere with getting a prompt diagnosis of gum disease because the nicotine in tobacco reduces the blood supply to the gums. Usually a person with an infection may first notice their gums are reddened or swollen, and bleed easily. Smoking, however, can give a false impression of health because it prevents the infected gum tissues from becoming swollen and are less likely to bleed. As a result, you may learn you have the disease much later rather than sooner, allowing the infection to inflict more damage.
There are ways to reduce your disease risk if you smoke. The top way: Kick the smoking habit. With time, the effects of smoking on your mouth and body will diminish, and you'll be better able to fight infection.
You should also practice daily brushing and flossing to keep plaque at bay, followed by regular dental cleanings to remove hard to reach plaque and calculus (tartar) deposits. You should also see your dentist at the first sign of trouble with your gums.
If you would like more information on the prevention and treatment of gum disease, please contact us or schedule an appointment for a consultation. You can also learn more about this topic by reading the Dear Doctor magazine article "Smoking and Gum Disease."
By Schiller Dental Inc
September 01, 2019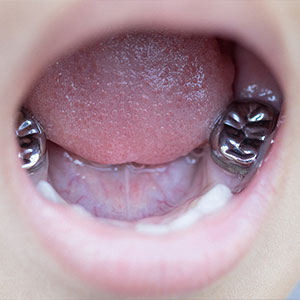 One of the key elements in a child's development is their first set of teeth. Although primary ("baby") teeth last only a few years, they're critically important for enabling a child to eat solid foods, speak and smile.
But they also provide one more important benefit—they hold the space in the jaw reserved for the permanent teeth developing just under the gums until they erupt. But if a child loses a primary tooth prematurely because of disease or injury, other teeth may drift into the vacant space and crowd it out for the intended permanent tooth. It may then come in misaligned or remain stuck within the gums (impaction).
To avoid this, we try to treat and preserve a diseased primary tooth if at all practical. For a primary molar, one of the large teeth in the back of the mouth, this might include capping it with a stainless steel crown.
Why a metal crown? Primary molars normally don't fall out until around ages 10-12, so it may be years for a younger child before their permanent molars erupt. All during that time these particular teeth will encounter heavier biting forces than teeth in the front.
A steel crown is often the best solution for a molar given their longer lifespans and encountered biting forces. The crown's metal construction can stand up to these forces while still protecting the tooth from re-infection from decay. And because molars are typically outside of the "smile zone" occupied by more visible front teeth, the crown's metal appearance isn't usually an aesthetic issue.
Crowning a molar usually takes one visit, a dentist typically performing the procedure with local anesthesia and possibly a mild sedative like nitrous oxide gas ("laughing gas"). After removing any decayed structure from the tooth, the dentist will then fit a pre-formed crown over the remaining structure, sized and shaped to match the original tooth as close as possible.
A stainless steel crown is a cost-effective way to added needed years to a primary molar that could otherwise be lost prematurely. Preserving it may help a child avoid bite problems and expensive future treatments.
If you would like more information on dental care for primary teeth, please contact us or schedule an appointment for a consultation. You can also learn more about this topic by reading the Dear Doctor magazine article "Stainless Steel Crowns for Kids: A Safe and Effective Way to Restore Primary Molars."