Posts for tag: gum disease
By Schiller Dental Inc
March 17, 2018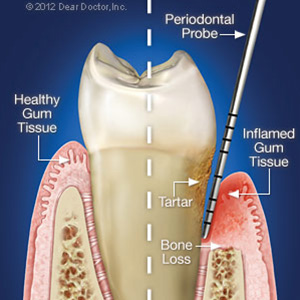 If you're over age 30 there's a fifty percent chance you have periodontal (gum) disease—and you may not even know it. Without treatment this often "silent" bacterial infection could cause you to lose gum coverage, supporting bone volume or eventually your teeth.
That's not to say there can't be noticeable symptoms like swollen, red, bleeding or painful gums. But the surest way to know if you have gum disease, as well as how advanced it is, is to have us examine your gums with manual probing below the gum line.
Using a long metal device called a periodontal probe, we can detect if you've developed periodontal pockets. These are gaps created when the diseased gum's attachment to teeth has weakened and begun to pull away. The increased void may become inflamed (swollen) and filled with infection.
During an exam we insert the probe, which has markings indicating depths in millimeters, into the naturally occurring space between tooth and gums called the sulcus. Normally, the sulcus extends only about 1-3 mm deep, so being able to probe deeper is a sign of a periodontal pocket. How deep we can probe can also tell us about the extent of the infection: if we can probe to 5 mm, you may have early to mild gum disease; 5-7 mm indicates moderate gum disease; and anything deeper is a sign of advanced disease.
Knowing periodontal pocket depth helps guide our treatment strategy. Our main goal is to remove bacterial plaque, a thin film of food particles that collects on teeth and is the main cause and continuing fuel for the infection. In mild to moderate cases this may only require the use of hand instruments called scalers to manually remove plaque from tooth surfaces.
If, however, our periodontal probing indicates deeper, advanced gum disease, we may need to include surgical procedures to access these infected areas through the gum tissue. By knowing the depth and extent of any periodontal pockets, we can determine whether or not to use these more invasive techniques.
Like many other health conditions, discovering gum disease early could help you avoid these more advanced procedures and limit the damage caused by the infection. Besides daily brushing and flossing to remove plaque and regular dental checkups, keep watch for signs of swollen or bleeding gums and contact us for an appointment as soon as possible. And be aware that if you smoke, your gums will not likely bleed or swell—that could make diagnosis more difficult.
If you would like more information on treating gum disease, please contact us or schedule an appointment for a consultation. You can also learn more about this topic by reading the Dear Doctor article "Understanding Periodontal Pockets."
By Schiller Dental Inc
September 02, 2017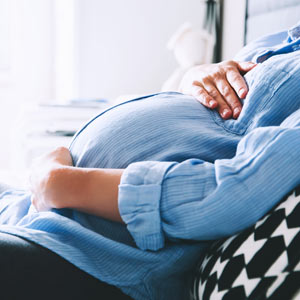 Learning you're pregnant can be a joyous moment. But it also means life is about to change as you focus on protecting you and your child from anything that endangers your health.
Because of these new concerns you might even hesitate about receiving dental care, especially involving anesthesia. But several medical organizations representing doctors, OB-GYN physicians and dentists wholeheartedly recommend continuing regular dental visits during pregnancy.
In fact, you should continue them because you're pregnant: physical and hormonal changes during pregnancy could increase your risk of dental disease.
For, example, your consumption of carbohydrates (like sugar) could increase, which in turn increases your risk of tooth decay. You'll also need to be more concerned about dental plaque, a thin bacterial film on your teeth that can cause disease. Hormonal changes during pregnancy may make you more sensitive to plaque, and thus more susceptible to disease — especially periodontal (gum) disease.
In fact, a specific form of gum disease called pregnancy gingivitis affects around 40% of expectant women at some point in their pregnancy. And if you already have gum disease, pregnancy could worsen it. Left untreated the disease could develop into more severe periodontitis, which may significantly damage your teeth's support structures far below the gum line, leading to bone loss, which could result in the eventual loss of your teeth. Daily brushing and flossing, regular cleanings and checkups and, if your dentist prescribes it, antibacterial mouth rinses can help you stay ahead of it.
But what about other procedures while you're pregnant? It may be best to wait on elective treatments for cosmetic purposes until after the baby is born. But some situations like deep tooth decay that could require a root canal treatment may become too serious to postpone.
Fortunately, several studies have shown it's safe for pregnant women to undergo many dental procedures including tooth fillings or extractions. And receiving local anesthesia doesn't appear to pose a danger either.
The important thing is to remain diligent with your own personal hygiene — brushing and flossing — and making other healthy choices like eating a nutritious diet. And be sure to let your dentist know about your pregnancy to help guide your dental treatment over the next few months.
If you would like more information on taking care of your teeth and gums during pregnancy, please contact us or schedule an appointment for a consultation.
By Schiller Dental Inc
August 03, 2017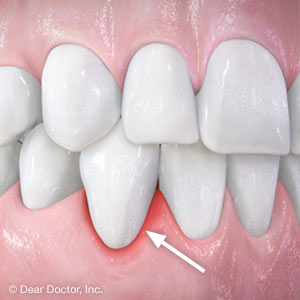 Teeth-replacing dental implants not only look life-like, they're made to last. For one thing, the metals and dental materials used in them are impervious to bacterial infection.
But that doesn't mean implants are impervious to failure. Implants depend on the bone and other natural mouth structures for support. If the bone becomes weakened due to disease, the implant could become unstable and ultimately fail.
Peri-implantitis, the condition that can lead to this kind of failure, is a major concern for implant longevity. It's a type of periodontal (gum) disease triggered by plaque, a thin film of food particles that can build up quickly in the absence of adequate brushing and flossing. The gum tissues around the implant become infected and inflamed.
If the infection isn't properly treated with renewed oral hygiene and clinical plaque removal, it could spread below the gum line and begin to damage the underlying gum tissues and bone. This could destroy the all-important connection between the titanium implant post and the bone. The implant could eventually loosen and become completely detached from the bone.
The key is early intervention before the bone becomes damaged. Besides plaque removal we may also need to apply antibiotics in some form to control the growth of disease-causing bacteria. If the disease has fairly advanced we may also need to consider surgical repair to strengthen the attachment between implant and bone.
You can help to avoid peri-implantitis altogether by practicing consistent daily brushing and flossing around all your teeth including the implant, and seeing your dentist at least twice a year for cleanings and checkups. And by all means see your dentist if you notice any signs of gum swelling, redness or bleeding. Staying on top of your gum health will help not only the natural tissues and remaining teeth in your mouth, it will help preserve your implants for decades to come.
If you would like more information on maintaining your dental implants, please contact us or schedule an appointment for a consultation.