Meet Abbie!
Dental Comfort Dog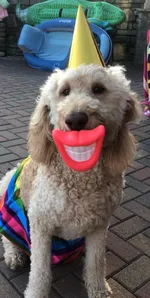 Abbie is a trained Emotional Support Animal who LOVES to give (and receive) a lot of attention and affection. She can sense stress and anxiety and understands when to comfort a patient.
Many of our patients will request Abbie at their side and prefer her company over sedative drugs or nitrous oxide (laughing gas). She has a calming effect and provides a great distraction during dental care. Abbie has been a great help for our most anxious patients especially children.
When Abbie is not hard at work here at Schiller Dental, she loves to go on walks with Dr. Laura, frequent her favorite dog parks, enjoy social hour at her doggy daycare, and chase squirrels throughout the neighborhood.
Abbie is a goldendoodle, known for their intelligence, temperament, and also hypoallergenic. Dr. Laura rescued Abbie from a local adoption agency (SAAP) in 2015 and together they make a great team combating dental anxiety!
Abbie currently is on duty by request only. She would love to meet each and every one of our animal lovers, children, and anxious patients.